Nu bijna overal ter wereld de school als gevolg van de pandemie regelmatig wordt afgesloten, verkeert het onderwijs in een crisis. De impact van de verstoring heeft de roep om niet alleen meer back-ups van het onderwijs met meer substantiële werkopdrachten die moeten worden gegeven, nadelig beïnvloed. De cruciale vraag die echter aan elke academicus moet worden gesteld, is te peilen of het onderwijs alle toehoorders bereikt? Hebben zij iets geleerd, hoeveel is er geregistreerd, begrepen en begrepen en hebben zij het geleerde ook kunnen toepassen? Nu het studentgericht leren volledig op e-Learning is overgeschakeld, hebben leerkrachten samen besproken hoe interactieve lessen succesvolle online lessen kunnen worden voor hun studenten. Vele uren werden besteed aan het uitproberen en herwerken van leerplannen, zoals die waarvoor toestellen nodig waren zoals bekers voor wetenschappelijke experimenten of zelfs die waarvoor een kooklepel nodig was. Hoe zit het met benchmarking?
Maple Leaf Kingsley Internationale School begrepen dit dilemma - van elk kind voor elke ouder. Hoewel eerdere studies hebben aangetoond dat e-learning met online tools gelijkwaardig kan zijn aan face-to-face lesmethoden, varieert de effectiviteit ook tussen de verschillende leeftijdsgroepen. In ML Kingsley, weet de school dat jongere kinderen van kleuterschool, receptie tot zelfs niveau 3 meer begeleiding nodig hebben en in een meer gestructureerde leeromgeving moeten zijn. Het curriculum werd herwerkt en geïmplementeerd om blended learning te incorporeren, met fysiek leren leidend tot geleidelijke progressie in het incorporeren van virtuele activiteiten. Met de technologie waren de kinderen enthousiast en geïnteresseerd. Sommigen waren gemotiveerd, velen bleven langer betrokken en velen waren in staat om beter te leren dan ze normaal doen. Met het toegenomen leervermogen nam ook het denken van hogere orde toe door hun leergierigheid en ontstond er een zelfgemotiveerde leerstijl.
With collaborative learning in mind, all teachers agreed that Problem Based Learning (PBL) projects or questions be aggressively used towards targeted learning and to see how much content knowledge can be achieved during online teaching. Additional learning materials were also updated on social media to encourage self-directed and critical thinking to take place. In classes such as Creative Arts, children took up their activities and even participated in individual class' competitions using a range of mediums in their works. The teachers were able to see self-encouragements through their art pieces and when praised for their achievements, we were able to see positive growth in self-esteem, which showed that more can be achieved even during remote teaching.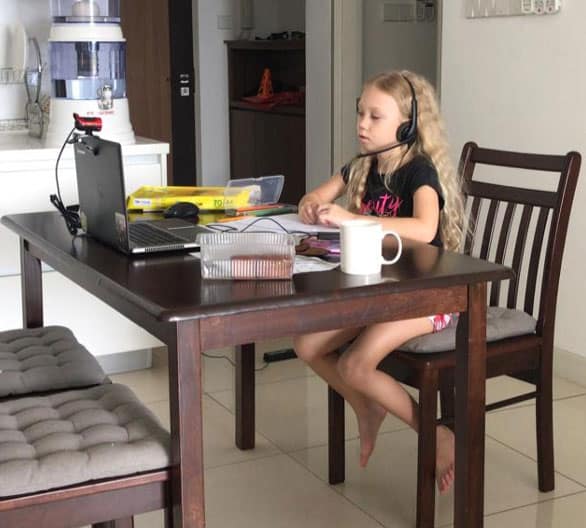 In the area such as Performing Arts, children were asked to create scenes according to the thematic curriculum that were reworked. Here, children dressed and acted out their roles accordingly. They self-recorded their own performances which were then connected to the other individual recordings received by the teachers. YouTube has played an important role here as all recordings were then uploaded and every child was able to see their contributions.
Meerderheid van ML KIS teachers found that they were able to reach out more efficiently and effectively through video meets such as zooming, chat groups and notes sharing. They also noted that different types of students were now able to venture out more to break out of their comfort zones and participate more. Observing the teaching sessions in the secondary levels, one would be surprised to note that students are now contributing more in a 40-minute class, and if not all, the majority of the students are now taking to the floor by storm!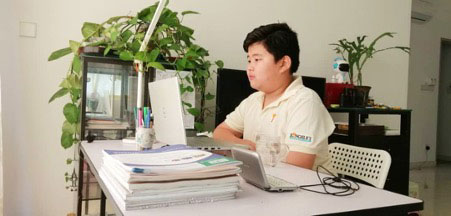 Met ML KISDe school wil leerlingen opleiden die klaar zijn om de uitdagingen van het leven aan te gaan en succesvolle ondernemers te zijn, en breekt daarom met de normale academische manier van lesgeven en leren uit het hoofd. Vaardigheden die belangrijk zijn voor hun toekomst moeten kritisch denken en aanpassingsvermogen aan een steeds veranderende wereld omvatten, waarin technologieën in toenemende mate verantwoordelijk zijn voor een snelle wereldwijde verspreiding van informatie en kennis.
Though teaching and learning have moved to a new normal of being conducted online, it is always our concern that some students will still face anxiety, while others would be affected through the lack of resources to own computers, laptops or other peripherals. In ML KIS, the school has made it available to reach out and help. The school has also made available the loan of equipment such as notebooks and all necessities for teaching and learning. Parents and guardians are constantly reached out by principals through social media or through the normal odd calls to inquire on theirs and their children's wellbeing, and many parents are grateful to be remembered.
Through this we want all students to be fully committed to continue learning towards competent literacy and contribute towards building a successful future. Only through coming together with the cooperation from stakeholders, parents, and a team of dedicated teachers and administrators, Maple Leaf Kingsley continues to ensure its excellent Education system continues through excellence teaching in a safe, pollution free and bully-free environment.