Alle stemmen van onze gemeenschap verdienen het om gehoord te worden. Tijdens dit schooljaar, dat ten einde loopt, hebben we geleerd en begrepen dat een gevoel van saamhorigheid ons alleen maar sterker kan maken. Zoals het oude Afrikaanse spreekwoord zegt: "Er is een dorp nodig om een kind op te voeden." Je zou je kunnen voorstellen dat er een gemeenschap nodig is om een school groot te brengen. Wij allemaal, leerlingen, leerkrachten, pedagogische leiders, domeinexperts, gezinnen en verzorgers, maken deel uit van een spannende uitdaging met onze kinderen in het middelpunt. In het licht hiervan, St. Peter's School Barcelona heeft een nieuw gemeenschapsbetrokkenheidsproject ontworpen dat op 21 september van start gaat.
More than ever, the pandemic has highlighted the importance of human contact. It has made us realise that St. Peter's zou niet het gastvrije internationale centrum kunnen zijn dat het is zonder onze flexibele, meertalige en innovatieve leergemeenschap van over de hele wereld.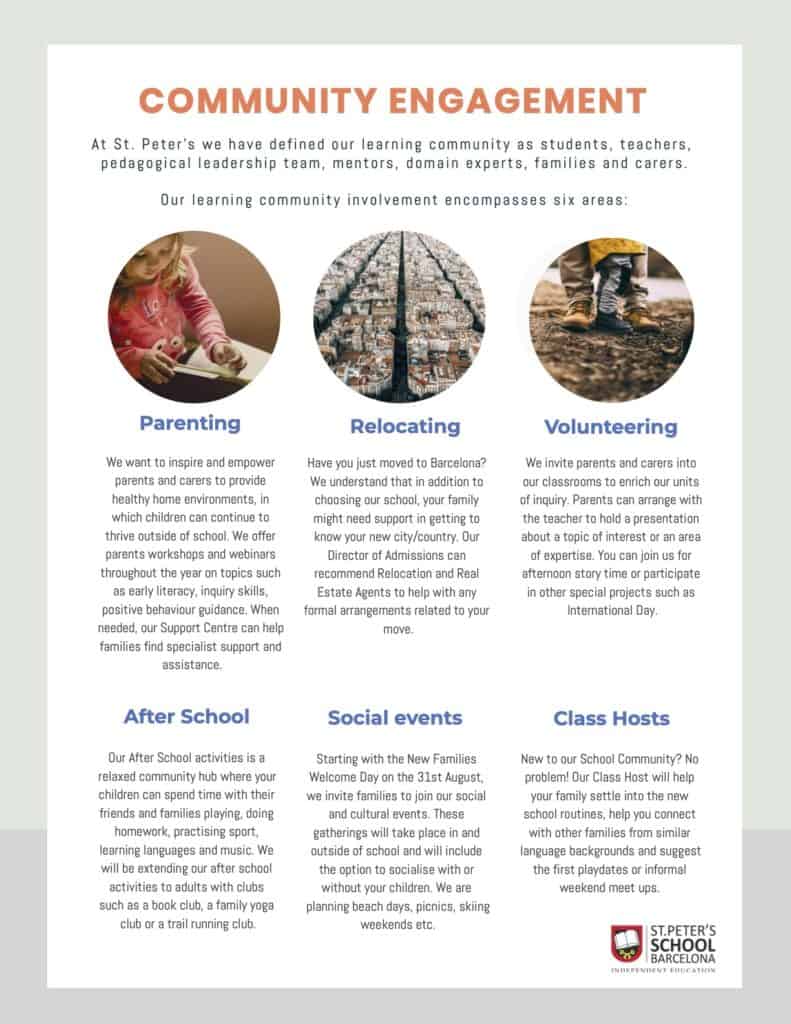 From the very first moment that you contact us in our Admissions Journey, to the moment in which the whole family passes through our doors and participates in our community life, we would like to make everyone feel at home.
For this reason and with great enthusiasm, the school has been working hard to prepare a set of activities in which everyone will get involved. The infographics show only the first projects designed for what we expect to be our Community Hub.
"The evidence is consistent, positive, and convincing:
Wanneer scholen, gezinnen en gemeenschappen samenwerken om het leren te ondersteunen, doen kinderen het vaak beter op school, blijven ze langer op school en vinden ze school leuker.

Henderson, Mapp, Johnson & Davies, 2007
---
Door Carme Escorcia, hoofd van Communicatie