De 49 afgestudeerden van ISR Neuss bereikt record Internationaal baccalaureaatsdiploma (IBD) resultaten van dit jaar, waarmee de status van ISR als een van de toonaangevende internationale privéscholen in Duitsland opnieuw werd bevestigd.
Voor de eerste keer in de geschiedenis van onze school, ISR graduates achieved an aver- age of 38 points, 5 points above the global average / One student attained a perfect score of 45 points – the highest possible score / 31 percent of graduates belong to the international top 3 % best list / 17 percent of graduates earned top grades – comparable to the Abitur grade of 1.0 / 65 % were awarded the prestigious Bilingual IB diploma / 12 nationalities make up the class of 2021/ And in the second year of Covid-19, three quarters of ISR graduates opt for renowned universities abroad.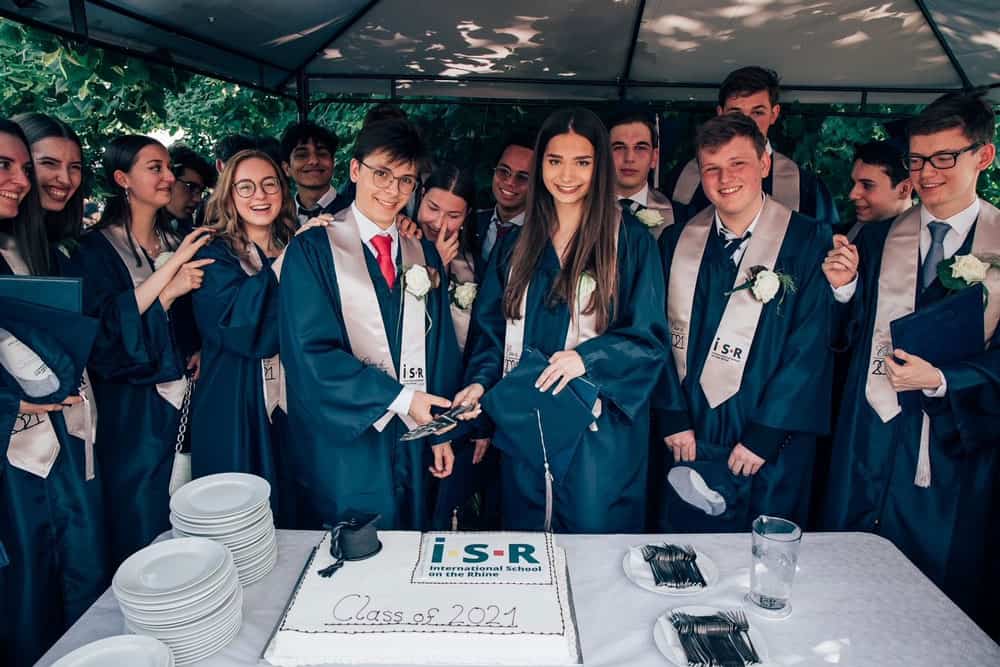 De 49 afgestudeerden van ISR Internationale School aan de Rijn in Neuss en Düsseldorf behaalden dit jaar een recordgemiddelde van 38 punten voor hun IB Diploma. In hun Internationaal Baccalaureaat DiplomaDe afgestudeerden van dit jaar, afkomstig uit 12 landen, scoorden 5 punten boven het mondiale gemiddelde van 33 punten.
"This record-breaking IB score deserves all the recognition because this time, the two most crucial school years before graduation, had to be completed under extremely difficult learning and examination conditions caused by the Covid-19 pandemic," says Emil Cete, Deputy Director and Head of Upper School who bears the responsibility of the IB preparations. Cete continues, "Besides the resilience and the determination to learn on the part of the students, this outstanding result is also due to the tremendous commitment of the entire teaching and administrative staff."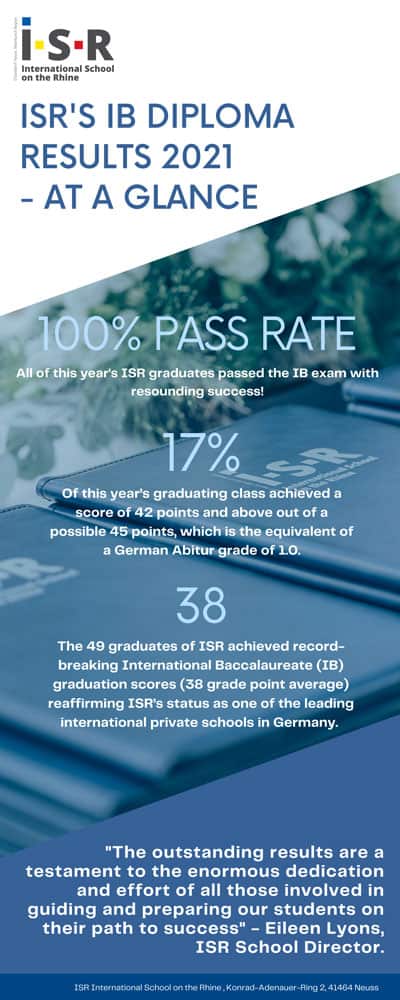 Met dit resultaat, ISR reaffirms its status as one of Germany's leading international private schools. Contributing to the excellent overall average is the targeted support offered to students according to their individual needs as well as intense guidance and support provided through our University and Career Counselors at ISR. The 38 point average in the IBD is the result of the outstanding achievement of the individual graduates this year. 31 percent of the class scored at least 40 out of a maximum of 45 points. This achievement – which is comparable to an average grade of 1.3 or better in the German Abitur – is usually only achieved by around three percent of IB students worldwide. In addition, 17% of the students in this year's graduating class passed their exams with an outstanding IB grade of 42 points or above, which is equivalent to a German Abitur grade of 1.0. "This comparison alone impressively underscores this year's excellent results," emphasizes Peter Soliman, ISR School Proprietor. One of our students achieved the top grade with an outstanding 45 points in his IB Diploma - het maximum aantal punten dat behaald kan worden. Soliman zegt: "Er is nog nooit een perfecte score in het IB-diploma behaald op het ISR." Voorheen was het hoogst behaalde cijfer 43 punten.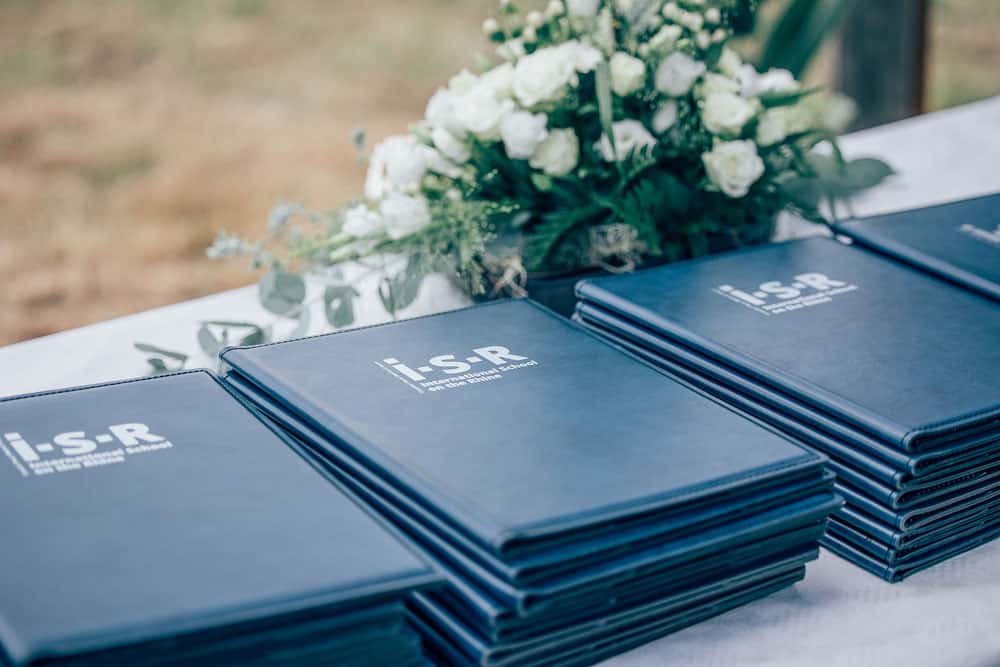 "De uitstekende resultaten zijn een bewijs van de uitzonderlijke toewijding en inspanningen van iedereen die betrokken is bij het begeleiden van onze studenten op hun weg naar succes. Dankzij deze schitterende resultaten hebben de afgestudeerden van dit jaar uitstekende vooruitzichten op plaatsen aan de beste universiteiten wereldwijd," benadrukt Eileen Lyons, schooldirecteur aan ISR. Gemiddeld kregen de ISR-afgestudeerden vier aanbiedingen voor een universiteit. Een kwart van de afgestudeerden gaat in Duitsland studeren, evenzo een kwart in Groot-Brittannië, en anderen in Nederland. Andere studierichtingen zijn de VS, Canada, Spanje, Japan en gerenommeerde universiteiten in Zwitserland.
"Our graduates have once again shown that they are committed to their own success and that of their peers. The culture of achievement and recognition of excellence is in our DNA," remarked Lyons. Offers were received from King's College London; University College London; the University of Toronto in Canada; Keio University in Japan; St. Gallen in Switzerland; universities in the USA such as Boston University, Michigan State University, Purdue University, and from the University of Maastricht in the Netherlands as well as RWTH Aachen in Germany, among many others. Ms. Lyons states, "These university offers are a great vote of confidence in the high standard of the education offered at ISR. Many universities have had very good experiences with ISR afgestudeerden in de afgelopen jaren, wat bijdraagt aan de uitstekende reputatie van onze school."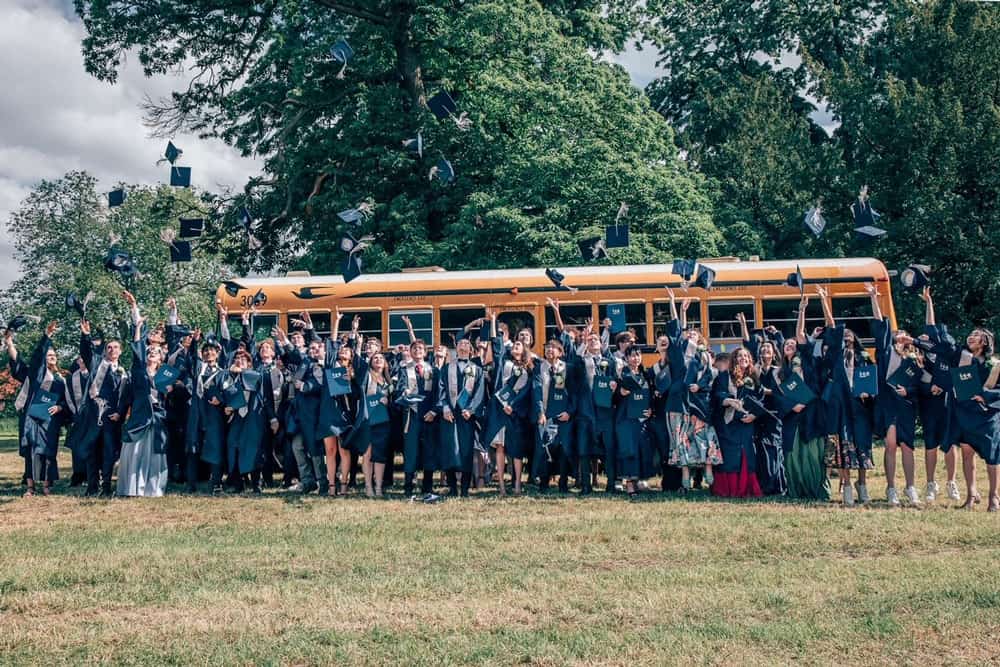 De internationale achtergrond van de eindexamenklas van 2021 en de internationale universitaire selectie benadrukken een ander belangrijk aspect van de afgestudeerden van dit jaar: 65 procent behaalde een tweetalig IB-diploma. Het tweetalige IB-diploma is zeer nuttig en wordt internationaal zeer gewaardeerd, omdat universiteiten en toekomstige werkgevers mensen zoeken die in meerdere talen kunnen communiceren.
"Uitgebreid advies over universitaire opties en welke studierichting past bij de voorkeuren en capaciteiten van de studenten en bij hun carrièreplanning is een belangrijk aanbod bij ISR," voegt Peter Soliman toe. Daarom beginnen de universiteits- en loopbaanadviseurs van de school al in een vroeg stadium met het adviseren van studenten, waarbij ze zich richten op hun sterke punten, doelen en carrièremogelijkheden. Het hele universitaire sollicitatieproces wordt nauwlettend in de gaten gehouden en professioneel ondersteund.
Veel oud-studenten vragen ons jaren na hun vertrek om ondersteuning bij verdere loopbaanstappen ISR. Even in such cases, we are happy to help. Similarly, our active, constantly growing alumni network provides support to our former students.

Ulrike Wacker, een van ISR's universiteits- en loopbaanadviseurs