In Maple Leaf Kingsley Internationale School, students from all levels from nursery to secondary, teachers and administrative staff went through the 24-Seasons drumming sessions to understand different type of rhythms and learning the art of drumming. The objective of this activity is to introduce culture and world history. It's not only traditional Chinese drumming but also Malaysian cultures as we in ML KIS believe in assimilating the rich cultural diversity of Malaysia into each session.
Traditional drumming is associated with pop, circumstance and jubilation. It is a hallmark of prosperity and celebration, uniting people through collective rhythms and tempos. Drumming helps to ease and calm the drummer as the person concentrates on the rhythm and instruction being belted out.
Drummen is een groepsactiviteit, waarbij vaak tien of meer percussionisten in de groep betrokken zijn. Hoewel vergelijkbaar met de westerse noties van "drum circles", volgen deze groepen vaak een zeer voorgeschreven en gechoreografeerde routine, waarbij één aspect van het ritme aan de algemene beat wordt toegevoegd. In die zin is Chinees drummen een collectieve actie, een beetje zoals de slagwerksectie van een muziekkorps. Naast het toevoegen van complexiteit aan het ritme, worden andere spelers vaak gebruikt om volume en aanwezigheid aan het optreden toe te voegen, wat betekent dat ze gewoon als versterkers fungeren.
The earliest known drums in China date back nearly four thousand years ago, around the time of the Shang Dynasty (c.1600 – c.1100 BCE). Most drums were crude constructions of animal shells, skins and clay/wooden composites. The most famous of these drum artifacts are comprised of tortoise shells, alligator and snake skins, which were popularized by ethnic groups and merchants along the Silk Road.
Historically, Chinese drums have been used in celebration and in conflict. As a result; Chinese drums are often the colour red which has long time been associated with power and luck, and accordingly, red drums have been used as a symbol of strength for rulers and armies. Such instruments are also used in ceremonies such as weddings and other festivities. A booming set of drums is often the backdrop to an important celebration. For example, there were thousands of drummers all marching to the beat of a single drum at the 2008 Beijing Olympics Opening Ceremony.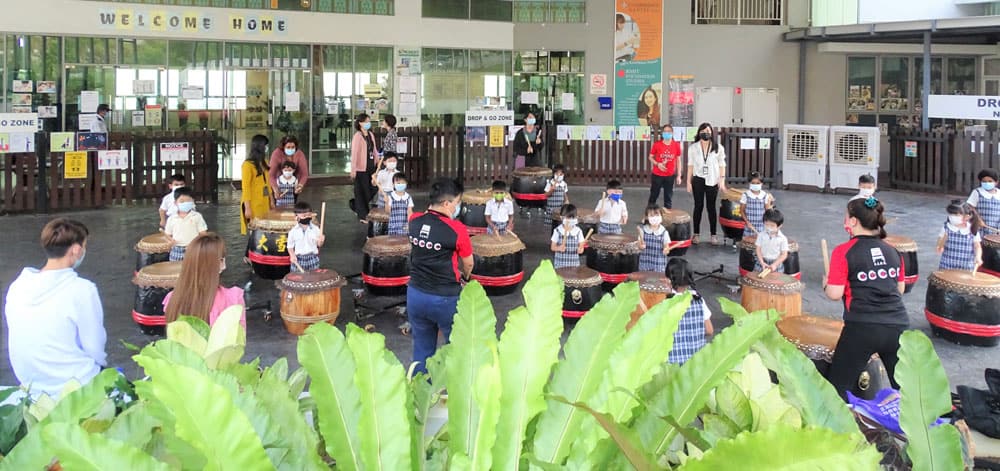 Onderzoek wijst uit dat trommelen te maken heeft met communicatie en muziek maken, twee essentiële kenmerken van het gemeenschapsleven. Drummen is een therapeutisch middel en het versnelt fysieke genezing, stimuleert het immuunsysteem en helpt bij het loslaten van emotionele trauma's. Drummen heeft een positief effect op angst, verdriet, vermoeidheid, depressie en gedragsproblemen. Onze leerlingen en het personeel genoten van deze activiteit en leken tevreden met het eindresultaat van het leren drummen.