GESS school counsellors Dr Hana Adams and Jennifer März share their expertise on structured working and learning and give tips on how to set positive goals.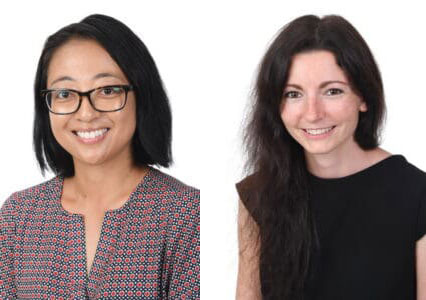 Hana Adams and Jennifer März
We hope you have had a fabulous school holiday and are ready for an adventurous year ahead. We are so excited and ready for the new academic year and we hope everyone is adjusting and settling into it. Though our children are facing a world of continued change, their resilience and curiosity will be fostered in a safe, secure, and known environment. Providing our children with a sense of what to expect will help them to adjust positively. As they settle into the new school year, maintaining a clear structure with well-established study habits and setting positive goals can also influence a child's attitude, comfort, and confidence.
Maintaining clear structure
• Establish your school routine with your child and plan together what needs to happen and when. Review your child's timetable to ensure they have the materials they need and are ready for their lessons. Knowing and having what they need, helps children to feel a sense control. This also allows you to check in with them about what happened during the day with specific questions. What game did you play in PE today? Did you have any difficulty with your maths quiz? Setting aside specific time to check in with your child after the school day shows them that you care about how they feel. You will also be able to find out about any issues sooner so that concerns do not become overwhelming in their perspective.
• Discuss the social distancing measures your child has seen at school and problem solve any areas of concern. Perhaps they feel "there isn't anything to do" because they can only use part of the playground or forum. Talk with them about what games they could play or activities they could do while following guidelines. For example, children could pick a general topic everyone knows and then play charades. Any classroom concerns should be addressed to the homeroom or subject teacher.
• Look out for signs that your child may be worried or anxious:
– Irritability
– Restlessness
– Fatigue
– Difficulty concentrating
– Physical discomforts, i.e. stomach aches, headaches, etc.
– Difficulty with sleeping or eating
• Ask your child about how they are feeling and provide them with honest and clear answers. The more we can model calm, the easier it will be for your child to follow that behaviour. If you do not know the answer to their question, help your child to find the answer by doing a safe online search, contacting peers or other parents of the class, or contacting the classroom/subject teacher.
• Help your child to focus on the positives. By focusing on the positive aspects of school, your child will be realistic about what to expect and how he or she can make the situation better if uncertainty arises.
For all children, encourage them to verbalize their thoughts and feelings. Be a good listener!

Developing good homework and study habits
• Create an environment that is conducive for studying and homework. Children need a consistent workspace in their bedroom or another part of the home that is quiet and without distractions. Ensure they have all the necessary equipment they need so they are ready to focus: pencils or pens, scratch paper, calculator, laptop chargers, etc.
• Schedule time for studying so your child has a routine and there are limited distractions. Work around your family's schedule so that family or dinner time is not affected. Having set times allows a child to set up healthy break times to limit body strains. Setting specific time allows you and your child to know that you can be available at that time to answer questions or to offer assistance.
• Establish a common household rule that the TV and other electronic distractions stay off during homework time.
• Supervise computer and Internet use to ensure your child is using their device appropriately. Talk with your child about any Internet research they are doing to ensure they are on age-appropriate sites and to help them better understand the content they are reading.
Take steps to help alleviate eye fatigue, neck fatigue and brain fatigue while studying. It may be helpful to close the books for a few minutes, stretch, and take a break periodically when it will not be too disruptive.
• If your child is struggling with a particular subject, talk with your child's teacher about what support can be provided at home or what help is available at school.
• Some children need help organizing their homework. Checklists, timers, and parental supervision can help overcome homework problems.
• Establish a good sleep routine. Insufficient sleep is associated with lower academic achievement in middle school, high school and college, as well as higher rates of absenteeism and tardiness.
Setting positive goals
• Start setting meaningful, small goals that your child establishes. This will help them find a sense of ownership and they will be more willing to set goals because they know they are helpful to them.
• Look for opportunities based on your child's interest that might motivate them to set a goal. Perhaps they are interested in a specific form of art. Sit with them to look at online material regarding the subject and help them establish how they can reach that goal.
• Goals should be done step-by-step and children need to be reminded that climbing a mountain doesn't happen overnight! Talk with them about each step they will need to take no matter how simple the task (getting your materials out, where you need to start the project, etc.).
• Praise, praise, praise your child! Setting goals is a lifelong skill and so no matter how small the success may be, let your child know you are proud of their accomplishments.
• If a goal fails, help your child to see which step or steps need to be modified or adjusted. Children need to know that setbacks will happen but it is within our power to adjust and make changes for the better.
Please visit the GESS Parent Portal for additional information on school guidelines.