In Scuola internazionale Maple Leaf Kingsley, students from all levels from nursery to secondary, teachers and administrative staff went through the 24-Seasons drumming sessions to understand different type of rhythms and learning the art of drumming. The objective of this activity is to introduce culture and world history. It's not only traditional Chinese drumming but also Malaysian cultures as we in ML KIS believe in assimilating the rich cultural diversity of Malaysia into each session.
Traditional drumming is associated with pop, circumstance and jubilation. It is a hallmark of prosperity and celebration, uniting people through collective rhythms and tempos. Drumming helps to ease and calm the drummer as the person concentrates on the rhythm and instruction being belted out.
Il drumming è un'attività di gruppo, che spesso coinvolge dieci o più percussionisti nel gruppo. Sebbene simili alle nozioni occidentali di "cerchi di tamburi", questi gruppi spesso seguono una routine molto prescritta e coreografata, fornendo un aspetto del ritmo al ritmo generale. In questo senso, il drumming cinese è un'azione collettiva, un po' come la sezione percussioni di una marching band. Oltre ad aggiungere complessità al ritmo, gli altri suonatori sono spesso usati per aggiungere volume e presenza alla performance, il che significa che stanno semplicemente agendo come amplificatori.
The earliest known drums in China date back nearly four thousand years ago, around the time of the Shang Dynasty (c.1600 – c.1100 BCE). Most drums were crude constructions of animal shells, skins and clay/wooden composites. The most famous of these drum artifacts are comprised of tortoise shells, alligator and snake skins, which were popularized by ethnic groups and merchants along the Silk Road.
Historically, Chinese drums have been used in celebration and in conflict. As a result; Chinese drums are often the colour red which has long time been associated with power and luck, and accordingly, red drums have been used as a symbol of strength for rulers and armies. Such instruments are also used in ceremonies such as weddings and other festivities. A booming set of drums is often the backdrop to an important celebration. For example, there were thousands of drummers all marching to the beat of a single drum at the 2008 Beijing Olympics Opening Ceremony.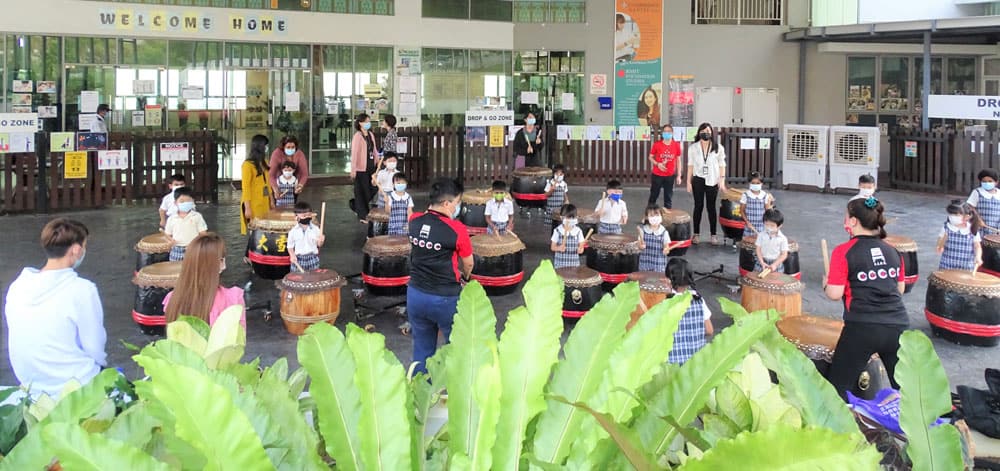 La ricerca indica che i tamburi riguardano la comunicazione e il fare musica, due caratteristiche essenziali della vita comunitaria. Il drumming è uno strumento terapeutico e accelera la guarigione fisica, rafforza il sistema immunitario e aiuta a rilasciare i traumi emotivi. Battere i tamburi ha un effetto positivo su ansia, dolore, stanchezza, depressione e problemi comportamentali. I nostri studenti e lo staff hanno apprezzato questa attività e sembravano soddisfatti del risultato finale dell'apprendimento dell'arte del tamburellare.