Jan Herbst, diplomato ISD 2018, ha appena completato il suo primo anno alla Central Saint Martins, una parte della University of the Arts London. Jan ha approfittato di un programma innovativo offerto al Central Saint Martins, il Foundation Diploma in Art and Design. Questo diploma unico, della durata di un anno, permette l'esplorazione dell'arte e del design in un ambiente criticamente creativo in modo che lo studente possa iniziare a definire il suo futuro studio e la sua pratica.
Although Jan was fairly confident in his interest in product design at the end of the IB Diploma Program at ISD, he chose the Foundation Degree at Central Saint Martins to give himself another year to develop his skillset and portfolio before starting his bachelor's degree.
Jan always enjoyed design work as part of the MYP, but was not able to continue this interest during the DP. As a result, Jan chose higher level Visual Arts as one of his six classes for the programme. In this class, he was able to explore his interest in three-dimensional objects with a connection to art. At the end of the DP, Jan was able to use the work from the course to apply to Central Saint Martins' Foundation Diploma.
Jan's teacher for Visual Arts was Nathaniel Katz. Nathaniel enjoyed the opportunity to teach Jan. His rigorous, experimental, and highly inventive approach to the creative process helped in his emergence as an artist and designer. Nathaniel felt that Jan's innate sense of design was evident in all of his work. Specifically, Jan's meticulous planning and preparation allowed him to engage in the creative process while stretching processes, resolving ideas and using failures as an opening for deeper exploration. As a result, Jan was able to create artwork that was outstanding, both materially and conceptually.
Il primo anno di Jan alla Central Saint Martins è stato fantastico. Ha affrontato il suo lavoro apertamente e ha sperimentato liberamente. Jan ha apprezzato l'opportunità di concentrarsi esclusivamente sull'area che lo appassiona: il design del prodotto. L'aspetto più impegnativo (ed eccitante) del corso è stato l'alto standard imposto a lui e ai suoi compagni di corso. Lui e i suoi compagni sono stati sfidati a sviluppare il loro pensiero, rendendolo estremamente coinvolgente.
For the culmination of his Foundation Degree, Jan presented his final piece several weeks ago: a lunch box that encourages the user to create meals at home, intended for sharing. Jan began his investigation by looking at his university food consumption and noticed that his lunch each day was dominated by "meal deals" (pre-packed sandwiches that are unhealthy and create a solo meal experience). After making this observation, Jan began a lunch club with several peers where each person was responsible for bringing in food for the others. In addition to eating healthier, Jan noticed that the lunch club encouraged more interaction between members of the group and provided a much needed break from the day.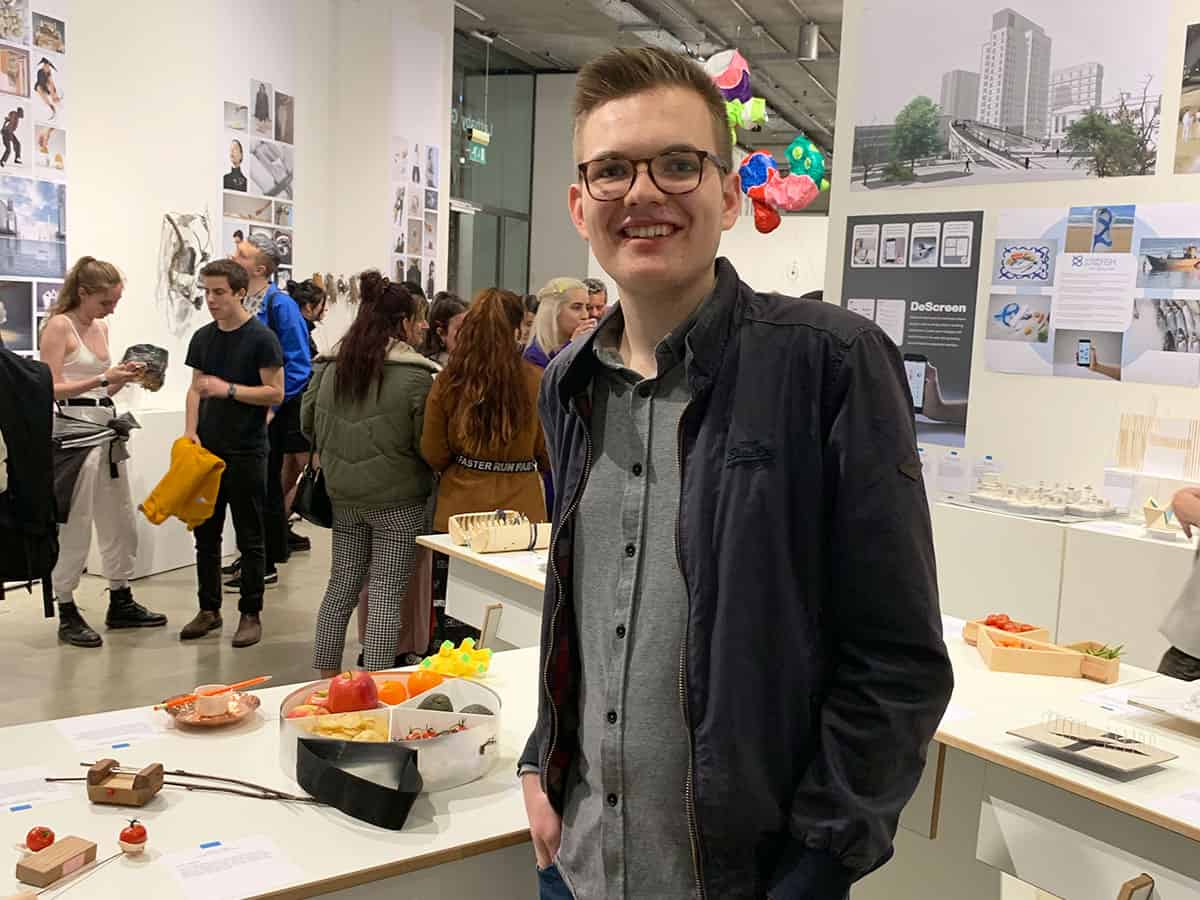 Il club del pranzo ha ispirato Jan a portare avanti l'idea. Jan si è ispirato a una teglia a forma di molla, usata per la cottura al forno, e ha modellato il suo progetto finale di scatola per il pranzo a partire da questa. Il design ha cinque scomparti uguali per il cibo, questo permette di condividere il cibo con i colleghi in ufficio in un ambiente di lunch club, o con gli amici in un picnic. Questo articolo fornisce maggiori dettagli sul processo di progettazione e sulle influenze di Jan come parte del progetto.
Jan sente che l'ISD lo ha preparato molto bene per il suo primo anno alla scuola d'arte e design, in particolare per quanto riguarda gli approcci di ricerca, la gestione del tempo e la riflessione. Ha scoperto che la riflessione è una grande parte del processo di progettazione e facendo riflessioni regolari come parte del suo DP, era più che preparato per ciò che gli veniva richiesto nel suo Foundation Degree.
Ben fatto, Jan.