Full or partial scholarships will be granted by the International School of Bucharest for the 2020/2021 school year. ISB aims to provide access to high quality education to 14 and 16 year old external candidates who live in Bucharest, candidates who: can not afford the expense of a private international school; have excellent academic achievements; and have an impeccable conduct record. The scholarships are granted for 2 of the ISB's programmes, specifically for the IGCSE programme (International General Certificate of Secondary Education) and for the IB Diploma programme (International Baccalaureate Diploma Programme).
This Scholarship Programme is available to students who are not currently enrolled in ISB. Students wishing to apply for an ISB scholarship must demonstrate excellent academic results and an impeccable conduct. Parents are required by the ISB Scholarship Board to disclose their monthly income. Student will benefit from full or partial Scholarships every year only under the condition that they continue to maintain their academic and conduct levels at a high standard.
Parents' financial situation will be evaluated annually. To be able to renew the contracts with ISB, parents of Scholarship recipients are to provide full financial disclosure every year. When applying for an ISB Scholarship, all candidates must provide a series of documents, precisely: official school academic records for the past full 3 academic years and half of the current academic year; both parents' income statements for the past three months (salary payment slips, pensions coupons or other relevant financial documents; signed declaration at the notary from parents that they do not have other financial resources.
Candidates who fail in providing the documents required by the deadline will be disqualified. Following the evaluation of the information and documents provided, the selected candidates will be invited to International School of Bucharest for assessment.
If you meet all the criteria mentioned above and want to join a highly stimulating academic environment and an internationally recognized school, please send us your application by 12th January 2020. Please visit www.isb.ro or write us at admissions@isb.ro if you have any inquiries.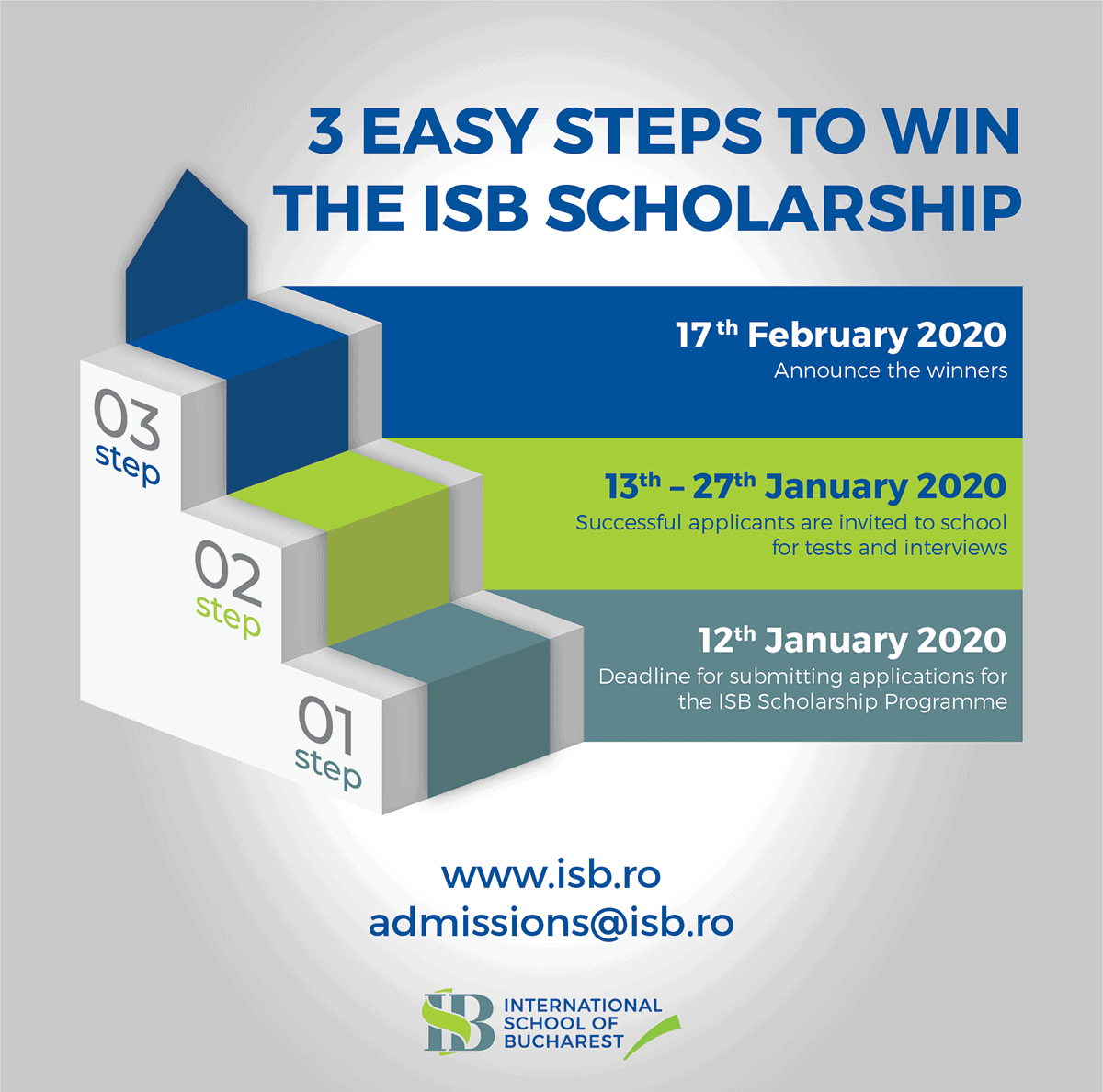 ISB was established in 1996, is authorised by the Ministry of Education of Romania and accredited by the Council of International Schools (CIS). ISB is a member of the Council of British International Schools (COBIS), is an examination centre for Cambridge Assessment International Education and is authorised by the International Baccalaureate to offer the Diploma Programme. International School of Bucharest provides a complete educational programme of a high standard for pupils aged between 2 and 18 years.
The ISB Campus is located in 1R Sos. Gara Căţelu, Sector 3, Bucharest. Over 40 nationalities are represented among over 700 students enrolled in the school. ISB follows the English National Curriculum enhanced by the Cambridge Primary and Lower Secondary Curriculum; International General Certificate of Secondary Education (IGCSE) and International Baccalaureate Diploma Programmes. The education gained by ISB alumni provide access to prestigious universities around the world, including Romania. English is the language of teaching, and most of our teachers are native English speakers.