Chacune des voix appartenant à notre communauté mérite d'être entendue. Au cours de cette année scolaire, qui touche à sa fin, nous avons appris et compris que le sentiment d'unité et d'appartenance ne peut que nous rendre plus forts. Comme le dit le vieux proverbe africain, "Il faut un village pour élever un enfant". On pourrait donc imaginer qu'il faut une communauté pour élever une école. Nous tous, élèves, enseignants, membres de la direction pédagogique, experts du domaine, familles et soignants, faisons partie d'un défi passionnant dont nos enfants sont le centre. À la lumière de ce qui précède, École St. Peter de Barcelone a conçu un nouveau projet d'engagement communautaire qui sera lancé le 21 septembre.
More than ever, the pandemic has highlighted the importance of human contact. It has made us realise that St. Peter's ne serait pas le pôle international accueillant qu'elle est sans sa communauté d'apprentissage flexible, plurilingue et innovante, issue du monde entier.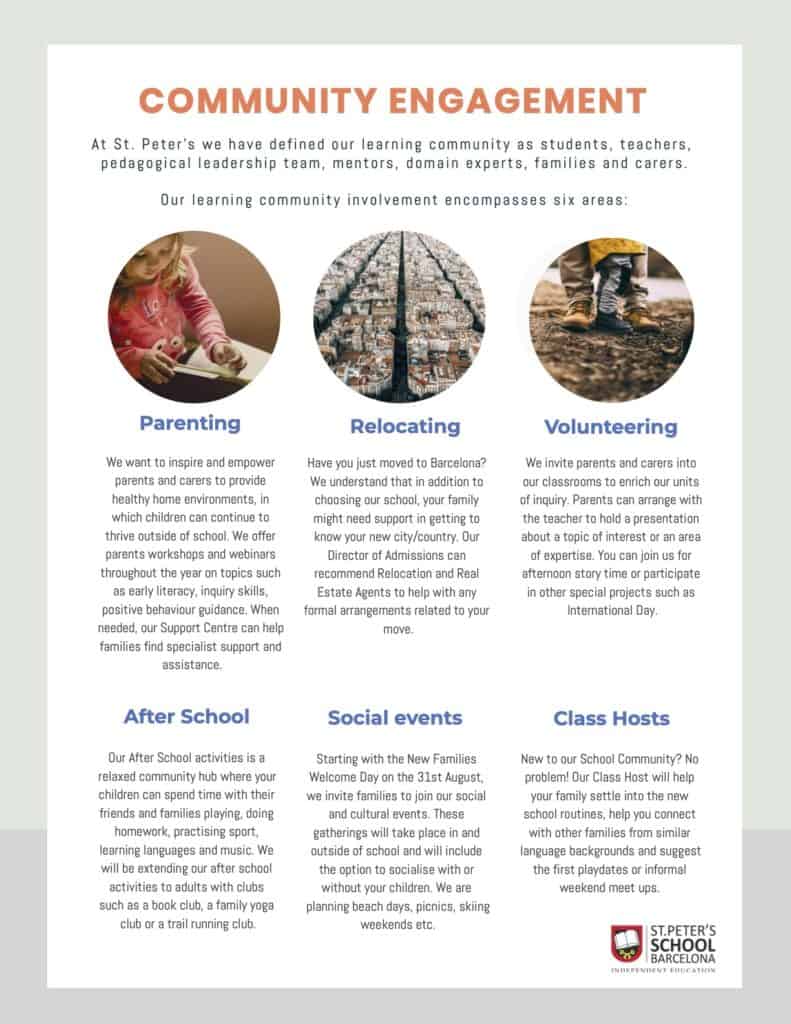 From the very first moment that you contact us in our Admissions Journey, to the moment in which the whole family passes through our doors and participates in our community life, we would like to make everyone feel at home.
For this reason and with great enthusiasm, the school has been working hard to prepare a set of activities in which everyone will get involved. The infographics show only the first projects designed for what we expect to be our Community Hub.
"The evidence is consistent, positive, and convincing:
Lorsque les écoles, les familles et les groupes communautaires travaillent ensemble pour soutenir l'apprentissage, les enfants ont tendance à mieux réussir à l'école, à y rester plus longtemps et à aimer davantage l'école.

Henderson, Mapp, Johnson & Davies, 2007
---
Par Carme Escorcia, responsable des communications