Los 49 graduados de ISR Neuss logra un récord Diploma de Bachillerato Internacional (IBD) resultados de este año, reafirmando el estatus de ISR como uno de los principales colegios privados internacionales de Alemania.
Por primera vez en la historia de nuestra escuela, ISR graduates achieved an aver- age of 38 points, 5 points above the global average / One student attained a perfect score of 45 points – the highest possible score / 31 percent of graduates belong to the international top 3 % best list / 17 percent of graduates earned top grades – comparable to the Abitur grade of 1.0 / 65 % were awarded the prestigious Bilingual IB diploma / 12 nationalities make up the class of 2021/ And in the second year of Covid-19, three quarters of ISR graduates opt for renowned universities abroad.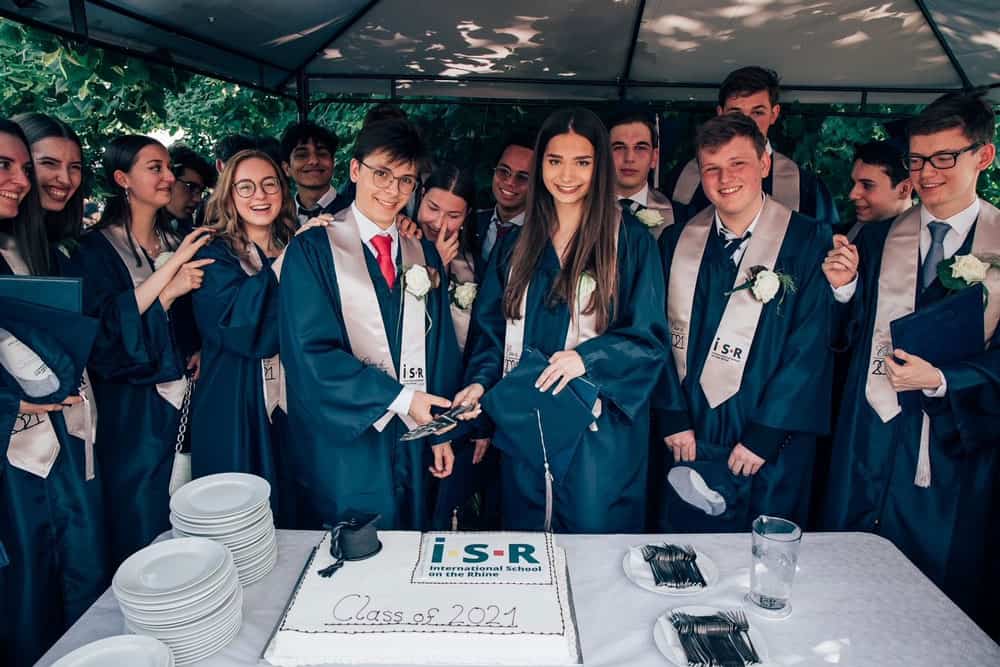 Los 49 graduados de ISR Escuela Internacional del Rin en Neuss y Düsseldorf lograron este año una media récord de 38 puntos en su Diploma IB. En su Diploma de Bachillerato InternacionalLos graduados de este año, procedentes de 12 países, obtuvieron 5 puntos por encima de la media mundial de 33 puntos.
"This record-breaking IB score deserves all the recognition because this time, the two most crucial school years before graduation, had to be completed under extremely difficult learning and examination conditions caused by the Covid-19 pandemic," says Emil Cete, Deputy Director and Head of Upper School who bears the responsibility of the IB preparations. Cete continues, "Besides the resilience and the determination to learn on the part of the students, this outstanding result is also due to the tremendous commitment of the entire teaching and administrative staff."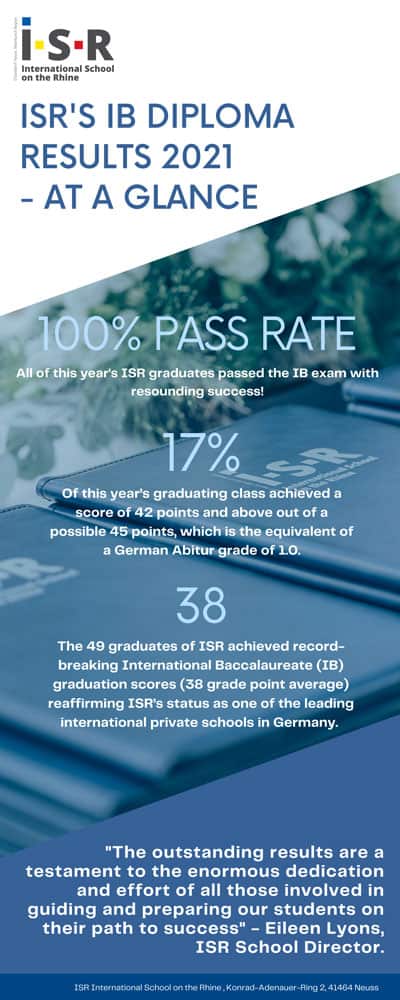 Con este resultado, ISR reaffirms its status as one of Germany's leading international private schools. Contributing to the excellent overall average is the targeted support offered to students according to their individual needs as well as intense guidance and support provided through our University and Career Counselors at ISR. The 38 point average in the IBD is the result of the outstanding achievement of the individual graduates this year. 31 percent of the class scored at least 40 out of a maximum of 45 points. This achievement – which is comparable to an average grade of 1.3 or better in the German Abitur – is usually only achieved by around three percent of IB students worldwide. In addition, 17% of the students in this year's graduating class passed their exams with an outstanding IB grade of 42 points or above, which is equivalent to a German Abitur grade of 1.0. "This comparison alone impressively underscores this year's excellent results," emphasizes Peter Soliman, ISR School Proprietor. One of our students achieved the top grade with an outstanding 45 points in his Diploma IB - el número máximo de puntos que se puede alcanzar. Soliman dice: "Nunca antes hubo una puntuación perfecta en el diploma del BI en el ISR". Anteriormente, la nota máxima alcanzada era de 43 puntos.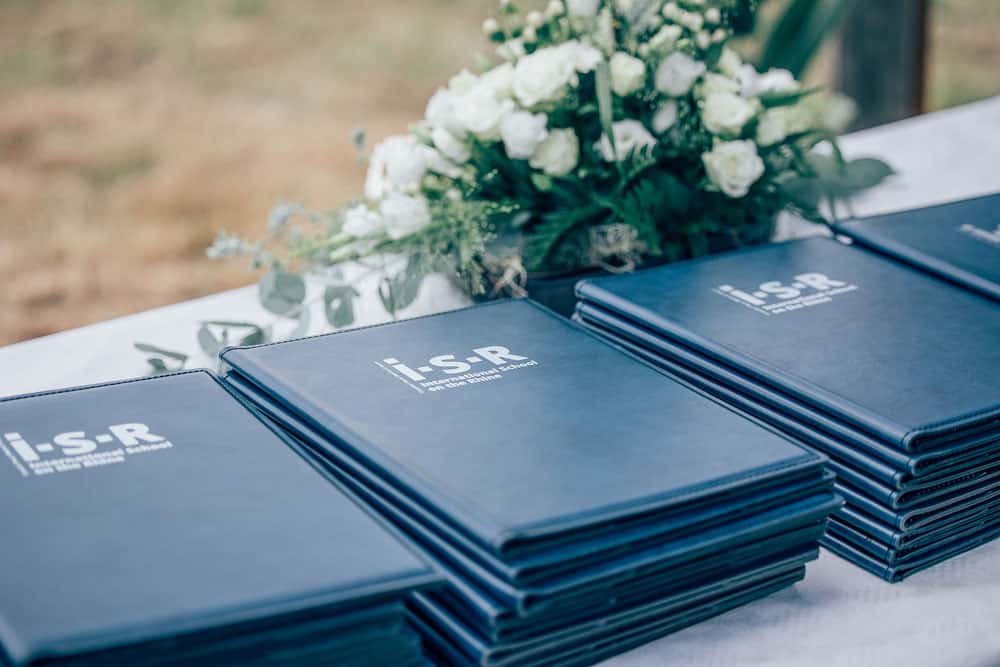 "Los extraordinarios resultados son un testimonio de la excepcional dedicación y los esfuerzos de todos los implicados en guiar a nuestros estudiantes en su camino hacia el éxito. Gracias a estos brillantes resultados, los graduados de este año tienen excelentes perspectivas de obtener plazas en las mejores universidades del mundo", subraya Eileen Lyons, Directora de la Escuela de ISR. Por término medio, los graduados del ISR recibieron cuatro ofertas universitarias cada uno. Una cuarta parte de los graduados estudiará en Alemania, otra cuarta parte en Gran Bretaña y otros en los Países Bajos. Otros destinos de estudio son Estados Unidos, Canadá, España, Japón y universidades de renombre en Suiza.
"Our graduates have once again shown that they are committed to their own success and that of their peers. The culture of achievement and recognition of excellence is in our DNA," remarked Lyons. Offers were received from King's College London; University College London; the University of Toronto in Canada; Keio University in Japan; St. Gallen in Switzerland; universities in the USA such as Boston University, Michigan State University, Purdue University, and from the University of Maastricht in the Netherlands as well as RWTH Aachen in Germany, among many others. Ms. Lyons states, "These university offers are a great vote of confidence in the high standard of the education offered at ISR. Many universities have had very good experiences with ISR graduados en los últimos años, lo que se suma a la excelente reputación de nuestra escuela".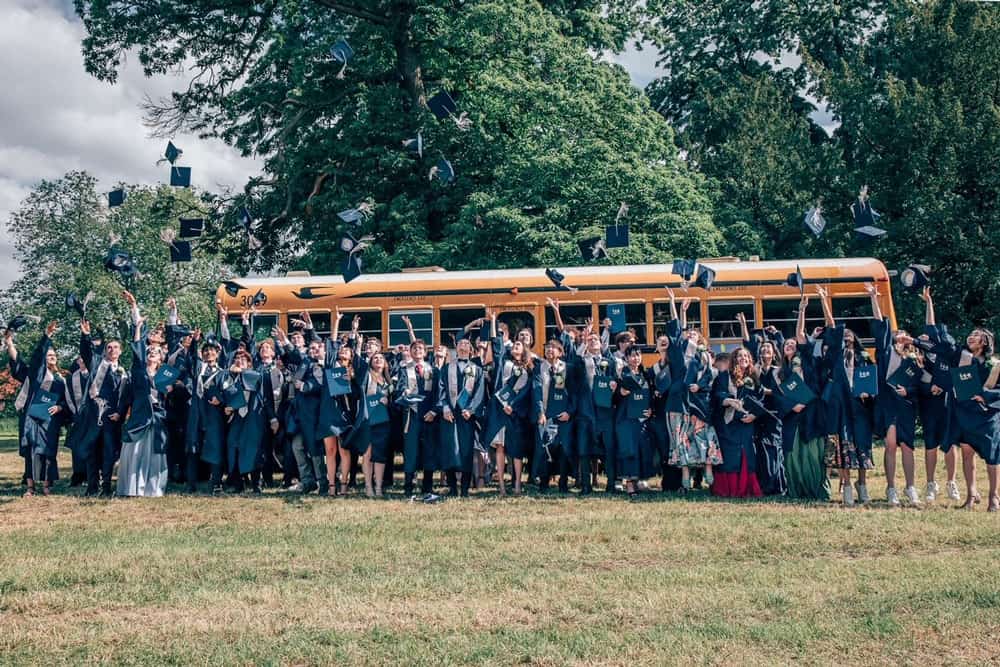 La procedencia internacional de la promoción de 2021, así como la selección de universidades internacionales, pone de manifiesto otro aspecto importante de los graduados de este año: El 65% obtuvo un diploma bilingüe del IB. El diploma bilingüe del IB es extremadamente útil y muy valorado en el ámbito internacional, ya que las universidades y los futuros empleadores buscan personas que puedan comunicarse en varios idiomas.
"El asesoramiento integral sobre las opciones universitarias y la carrera que se ajusta a las preferencias, capacidades y planificación profesional de los estudiantes es una oferta clave en ISR", añade Peter Soliman. Por eso, desde el principio, los consejeros universitarios y profesionales de la escuela empiezan a asesorar a los estudiantes centrándose en sus puntos fuertes, sus objetivos y sus opciones profesionales. Todo el proceso de solicitud de ingreso en la universidad se supervisa de cerca y se apoya profesionalmente.
Muchos antiguos alumnos nos piden apoyo para dar nuevos pasos en su carrera profesional años después de haberla abandonado. ISR. Even in such cases, we are happy to help. Similarly, our active, constantly growing alumni network provides support to our former students.

Ulrike Wacker, una de las consejeras universitarias y profesionales de ISR