Jede einzelne der Stimmen, die zu unserer Gemeinschaft gehören, verdient es, gehört zu werden. In diesem Schuljahr, das sich dem Ende zuneigt, haben wir gelernt und verstanden, dass ein Gefühl der Zusammengehörigkeit und des Zusammengehörens uns nur stärker machen kann. Wie das alte afrikanische Sprichwort sagt: "Es braucht ein Dorf, um ein Kind großzuziehen." Man könnte sich also vorstellen, dass es eine Gemeinschaft braucht, um eine Schule zu erziehen. Wir alle, Schüler, Lehrer, Mitglieder der pädagogischen Leitung, Fachexperten, Familien und Betreuer sind Teil einer spannenden Herausforderung, bei der unsere Kinder im Mittelpunkt stehen. In Anbetracht dessen, St. Peter's Schule Barcelona hat ein neues Community Engagement Projekt entworfen, das am 21. September startet.
More than ever, the pandemic has highlighted the importance of human contact. It has made us realise that St. Peterskirche könnte nicht das einladende internationale Zentrum sein, das es ist, ohne unsere flexible, mehrsprachige und innovative Lerngemeinschaft aus der ganzen Welt.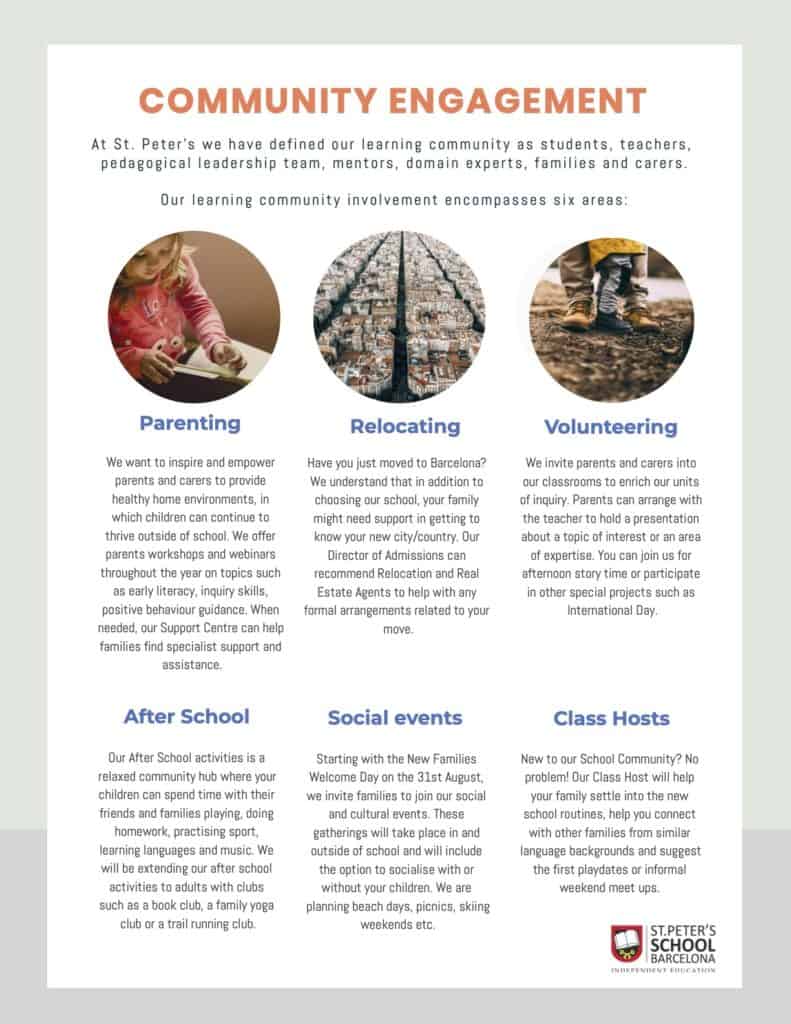 From the very first moment that you contact us in our Admissions Journey, to the moment in which the whole family passes through our doors and participates in our community life, we would like to make everyone feel at home.
For this reason and with great enthusiasm, the school has been working hard to prepare a set of activities in which everyone will get involved. The infographics show only the first projects designed for what we expect to be our Community Hub.
"The evidence is consistent, positive, and convincing:
Wenn Schulen, Familien und Gemeindegruppen zusammenarbeiten, um das Lernen zu unterstützen, neigen Kinder dazu, in der Schule besser abzuschneiden, länger in der Schule zu bleiben und die Schule mehr zu mögen.

Henderson, Mapp, Johnson & Davies, 2007
---
Von Carme Escorcia, Leiterin der Kommunikation