One of the features that we consider important for the success of our School Project is consistency: achieving alignment around high expectations for our students and staff and then consistency of performance. According to McKinsey 7S framework in order to align an organisation to a new project or initiative we need the following 7S to work in harmony: strategy, structure, systems, style, staff, skills and shared values. The model does not produce all the answers, but can help us ask the right questions to identify what we can do to improve our school's effectiveness.
Als Teil unseres Ausrichtungsziels bei St. PeterskircheWährend unseres ersten Professional Development Day im Januar haben wir in unserem Education Team in Foundation Years einen agilen Stil des Teammanagements eingeführt.
According to our School Project we strive to instil learning agility in our students with a focus on learning-over-knowing with specific core competencies as IB learners: balance, inquiry, risk-taking, principled etc. (this is our school's STRATEGY). Our Foundation Years Team is working to align STYLE and SYSTEMS to this STRATEGY. We want to place the agile mindset as our institutional ethos, so that our staff have a defining advantage in navigating the changes in education, brought by the 4th Industrial Revolution. We believe that the school world of the future will require teachers who can make sense and meaning of new and emerging needs, and solve problems not yet known.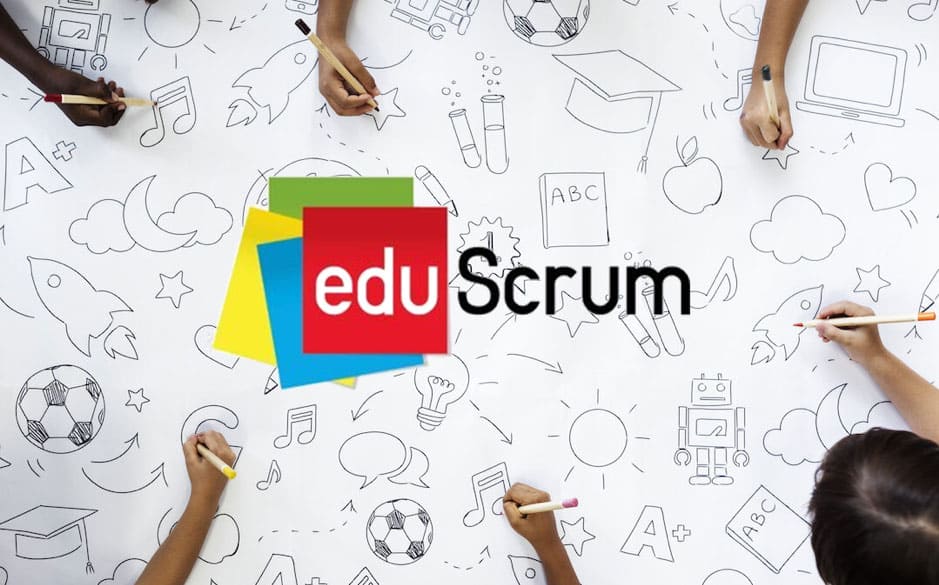 Das Foundation Years Team hat gemeinsam ein Brainstorming durchgeführt und sich auf "10 Eduscrum-Prinzipien für ein Bildungsteam" geeinigt, um sicherzustellen, dass unser STIL und SYSTEM der Arbeit mit dem Schulprojekt übereinstimmt. Die Eduscrum-Prinzipien sind inspiriert durch das Agile Manifest und den SCRUM-Leitfaden, die von anderen Organisationen verwendet werden, und beinhalten:
Vertrauen + Unterstützung: Je vielfältiger unser Team ist, desto besser werden unsere Ideen, desto besser wird unsere Arbeit sein und desto mehr werden wir voneinander lernen.
Gemeinsam arbeiten: Wir arbeiten proaktiv zusammen. Wir wollen den Ablauf in unserer gesamten Schule optimieren und nicht nur lokal unsere Arbeitsweise innerhalb unseres Teams.
Face to face conversation
Den Kunden zufriedenstellen: Wir organisieren uns rund um unsere Bildungsdienstleistungen: um unsere Schüler und ihre Familien zu begeistern; wir konzentrieren uns darauf, Angebote, Bildung und Service zu produzieren, die sie brauchen.
Continuous improvement: We realise that to remain competitive we need to constantly look for ways to improve our processes, the outcomes that we are delivering to our students, and our organisational structures.
Reflect + adjust: Every student, every family, every teacher and every team is unique. We face unique situations that evolve over time. The implication is that we must choose our way of working to reflect the context that we face and then evolve our way of working as the situation evolves.
Alle Arbeit sichtbar machen: Wir machen unsere Arbeit sowohl auf der individuellen als auch auf der Teamebene sichtbar. Unser Team macht seine Arbeitsabläufe sichtbar und verfügt daher über explizite Workflow-Tools, so dass jeder weiß, woran der andere arbeitet. Wir bemühen uns, unsere Vorhersehbarkeit zu verbessern, damit unser Team effektiver zusammenarbeiten und sich selbst organisieren kann.
Wir glauben, dass die Erzeugung eines Abgleichs zwischen St. Peter's Schule Strategie und der Arbeitsstil und die Systeme unseres Bildungsteams werden unseren Schulumwandlungsprozess unterstützen.
---
Von Krystina Smolensky, Leiterin der Foundation Years