Denla British School (DBS), one of the leading international schools in the region, continues to expand its facilities, affirming its image of being the best British school in the region. Today, DBS has about 400 students after successfully enrolling students from Early Years to Year 9 (kindergarten to Mattayom2 levels). It has launched a pre-school class named 'DBS Mini Dragons' for students aged 2-3 years old to ensure an excellent learning foundation and whole child development.
Must-have qualities for world's top universities, other than IGCSE and A-level examinations.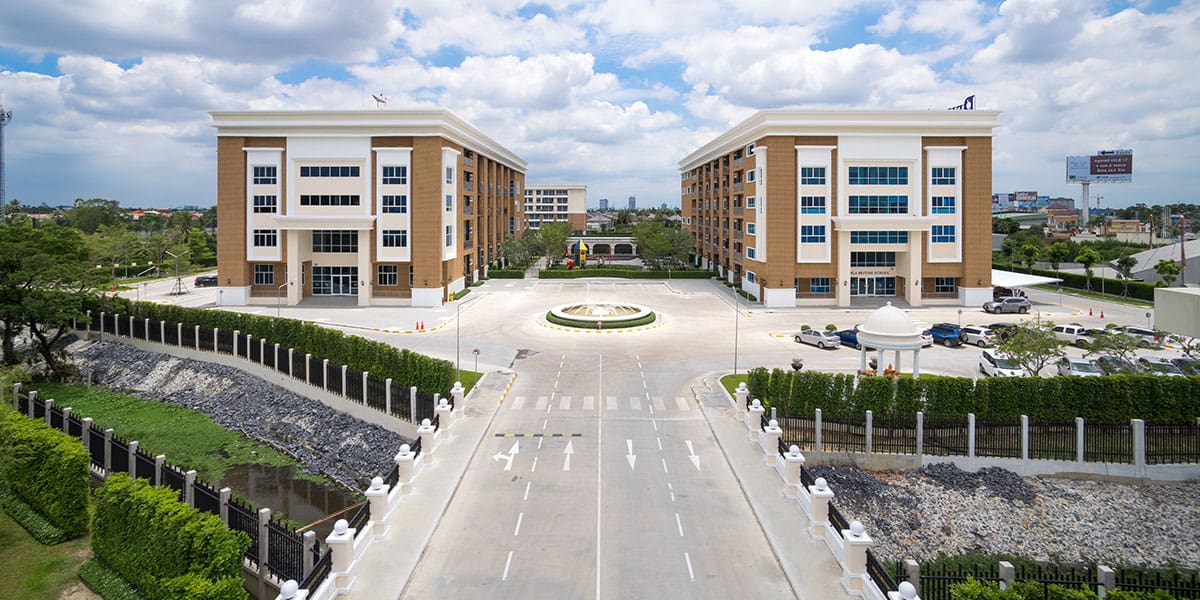 Dr. Toryos Pandejpong, DBS Board Director, says it is very important for students in Year 13 (18-year olds), who are going to graduate from senior school, to continue their education in universities by succeeding in IGCSE and A-Level examinations. However, apart from these examinations, top universities in the UK, Europe, and worldwide value leadership, co-curricular talent, passion, social skill etc. This special set of skills needs to be learnt and practised from an early age. Therefore, DBS's vision "Nurturing Global Leaders" builds upon its outstanding strengths, like academic excellence, with English, Mathematics, and Science as main subjects. A strong leadership mindset differentiates DBS from other international schools, promoted by activities such as singing, acting, programming, coding, art, music, and sport (some of our students are national and international athletes). Another strength is the extended day programme: an additional afternoon period of 2 hours for engaging activities, under the close supervision of expert teachers. A longer learning period means increased opportunity for students to focus on their favourite things and to join clubs and homework groups, preparing them for the future. A significant strength is our experienced English native speaking teachers who are expert in their subjects and are at the forefront of international education. Today, at DBS, 60 teachers, and 50 learning assistants, are 'superstars' of education, most-wanted by international schools worldwide.
Premium curriculum must be supported by world-class facilities
Dr. Toryos adds that another strength of DBS that differentiates DBS from others is our world-class facilities. With the land of over 60 rai, we have designed school buildings to complement our curriculum; grand utility areas, and classrooms that 50% bigger than other international schools, for example. Such facilities boost learning and teaching efficiency and maximise students' potential.
Moreover, to continue our mission as the leading international school in the region, DBS is now focusing on Sun and Heat Protection policy. If outside temperature is high and feels like it is 40 degree Celsius, measures will be implemented to prevent students from going outside and doing outdoor activities as to protect their health. Thailand is located in the tropical area with a long period of summer and according to the scientific speculation, temperature in Thailand would reach to 50-degree Celsius in the next 10 years. Therefore, for a better student's quality of life and education, DBS has to invest more 30 million baht to expand our indoor facilities so students could fully enjoy sports and other fun activities without concerning about heat and their health during extreme sunlight.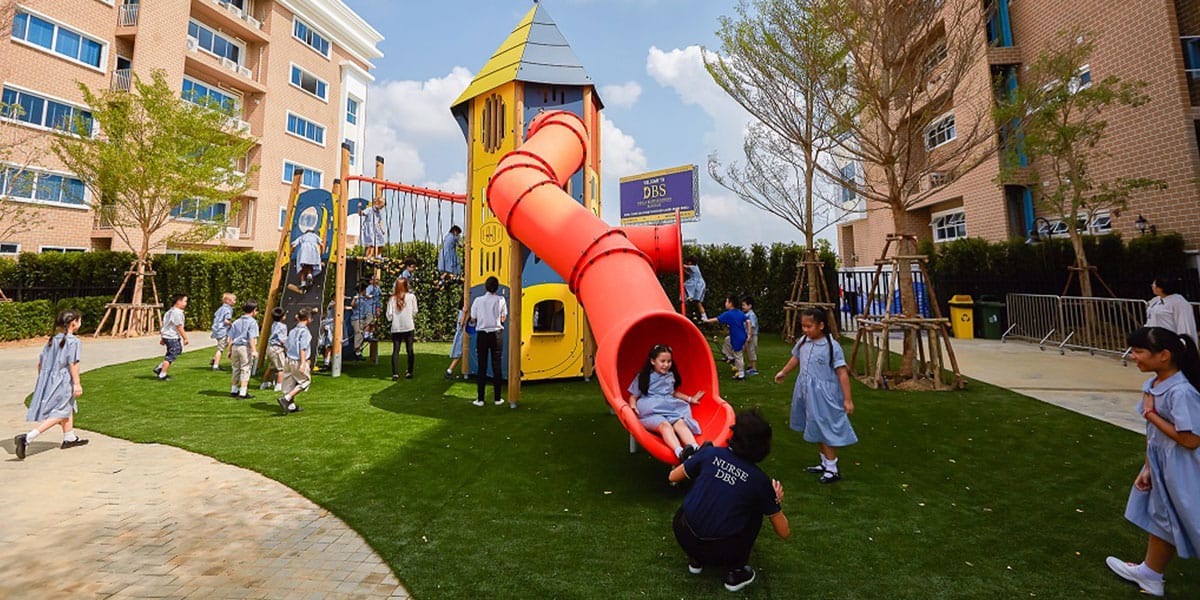 DBS is now building a 3rd large covered indoor sports hall, adding to the indoor, air-conditioned sports hall and covered sports hall that we already have. When finished, DBS will have sport halls with a combined area of 3,600 square metres and compacity of 3,000 people. The covered sports halls will block sunlight so students don't have to worry about the sun when it is too hot to do activities outdoors. Another construction is a café with bakery, food and drinks, so parents can relax while waiting for their children to finish their activities.
These new amenities add to more than 40 facilities at DBS, including a full-size football field with FIFA-preferred 2 Star turf, standard athletic tracks, indoor salt-water swimming pool, gymnastic studio, tennis courts, golf training facility, long jump pitch, rugby field, 3 playgrounds, sand pitch, 3 performing arts studios, music rooms, 3 private music rooms, computer lab, 2 science labs, library, art studio, and exhibition room.
World-class standard guaranteed by ISAT and CIS
Dr. Temyos Pandejpong, another DBS Board Director, adds that DBS has passed the standard evaluation from the International School Association of Thailand (ISAT) and the Council of International School (CIS), the pre-eminent institutions for evaluating and recognising international schools in Thailand, and worldwide.
Learning and teaching at DBS are a major focus. Teachers all have degrees in education and are native English speakers. Facilities and school equipment, as well as safety regulations are equal to those in premium private schools in the UK. A cooperative environment is encouraged between teachers and parents to build this vital relationship. Certifications from ISAT and CIS prove that DBS nurtures future high-quality leaders to compete on a global stage, as highlighted in the school's motto "Always to Greater Things".
Academic excellence and discovery of one's own passion are the key to reach the world's top universities
Mr. Mark McVeigh, DBS Principal, with his experiences from years of working in premium schools in the UK and Asia, has been continuing the founding Pandejpong family's vision for DBS. Mr. McVeigh aims for outstanding teaching and learning in a fully supportive environment, encouraging students to discover their own individual aptitude and to develop their potential to the fullest. With the Unique DBS Vision; an enhanced British curriculum, academic excellence for all, entrepreneurship and creative thinking, and global and community perspectives, including preserving Thainess, Mr. McVeigh says that these all contribute to DBS students' development in all areas. Students' successes can also be seen in the many academic and non-academic awards given to DBS students. That is why DBS is known as one of the top international schools for future leaders and entrepreneurs. DBS is fully capable of encouraging students to meet their full potential and goals.