Follow a day in the life of a teacher at Le Régent Crans-Montana College
---
Morning
My typical Wednesday morning begins at 6:45 when I wake up our Senior Girls and get them ready for breakfast and lessons. At quarter to eight, I walk over to the Junior School where I am a Year 8 tutor. Being a tutor is a highlight of the job because my twelve tutees are such a varied and lovely group of children.During tutor time, we discuss any important notices and check the all important football scores and highlights. Our pupils have access to a wide range of newspapers and periodicals that they read avidly. Throughout the day, interspersed with breaks and lunchtime duties, I teach English, Drama and French. I also have the privilege to run our whole school's reading programme in which pupils 'travel' around the world by reading six different genres throughout the year and getting stamps in their passports along the way.
A reader lives a thousand lives before he diesGeorge R.R. Martin
I share George R.R. Martin's belief that "A reader lives a thousand lives before he dies. The man who never reads lives only one." I would get a great sense of accomplishment if I managed to instill the love of reading in our pupils.
After lunch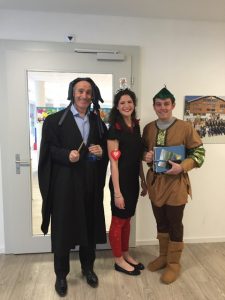 After lunch during winter, our students go downhill, cross-country or off-piste skiing, and during the rest of the year they spend the afternoon helping the community.This has previously entailed visiting a nursing home where the Régent College children interacted with the French residents, running a bake sale for a local charity or litter-picking in the forest and parks.Our college prides itself on not being an isolated entity but a thoroughly engaged part of our community.
United Nations Club
Once a week, I run a Model United Nations club. Earlier this year we had a challenging General Assembly simulation where another school joined us to debate the North Korean missile crisis. It was very lively and there was no lack of ideas.
Senior School
After the afternoon programme, the Senior School pupils get some free time before I supervise an hourly prep session in the Senior School library, a most inspiring and spacious place overlooking the Alps. Thereafter, we all have dinner in our large, bright and welcoming restaurant, complete with a French-trained pastry chef, before another hour of prep. We then engage in a relaxing activity for our boarders such as crafts or a games evening before more free time and finally lights out at 10pm.
Working in an international boarding school is extremely rewarding.
Junior School
In the Junior School, we have class teachers until Year 6 and thereafter subject teachers who follow the British National Curriculum, preparing pupils to sit the challenging Common Entrance Exams at the end of Year 8. In most subjects, teachers are able to vary the curriculum to fit the needs of international pupils in Switzerland such as the Swiss history unit run in Year 9. Pupils then move to the Senior School where they have a varied choice of IGCSEs which they sit in Year 11 before moving on to the International Baccalaureate*.I believe that the most challenging aspect for children is our fully immersive English programme. One of my tutees arrived last year from Japan speaking not a word of English which required a decent adjustment period. Hearing him able to joke around in near perfect English only a year later is incredibly heart-warming.
About the job
The hardest part of the job though is the hours which, for boarding staff like myself, preclude a fully active social life during term time because some weekends and evenings are taken up by duties. However, our generous holidays more than make up for this. In addition, living and working in an international boarding school is extremely rewarding. Overall, life at Le Régent College is demanding but each day is uniquely fulfilling.